A Week in the Life of an SEO Trainer was originally published on BruceClay.com, home of expert search engine optimization tips.
It happened again the other day. An email came that just made my week:
"Your training has taken me so far in my career in a very short time. I feel like it is by far the best training I have ever had on SEO."
– Tye Odom, an in-house SEO manager who also commented on LinkedIn
Our SEOToolSet® training is not your typical SEO training course.
By the numbers, we cover a massive binder of material, or two, depending on which course you take. And more than 5,000 people so far have attended our classes worldwide.
What's harder to quantify is how the classroom becomes a place where friendships and business collaborations are formed.
For three years, I've had the privilege of watching relationships grow from the front of the room, as a co-trainer with none other than Bruce Clay.
I love training people. You're probably thinking, "You have to love training, you're the trainer." But it's more than that.
In my role as SEO trainer, I get to help all sorts of people — whether it's a business owner who's tired of being taken advantage of, a spammer who's ready to reform his black-hat ways, or even an occasional attendee who hasn't a clue what search engine optimization is.
Training enables all of these people to transform their businesses and move ahead in their careers.
Let me give you a glimpse of what I've seen in our classes.
A Week in the Life: SEO Training Begins

Day 1 – A roomful of strangers
Standard training goes from Monday through Wednesday.
Mondays are my favorite day of our SEOToolSet Training course. I arrive excited, anticipating who will be sharing the classroom for the next few days.
Each attendee is greeted by Reyn (our amazingly organized receptionist) and by me. I confess I probably seem a little too enthusiastic at 8:30 a.m., especially as we pile a massive training binder and several large books into their arms.
Once the attendees are situated, the fresh coffee and breakfast spread seem to restore their smiles.
After some preliminaries and a couple of corny jokes to break the ice, I get to my favorite part: introductions.
As we go around the room introducing ourselves, I'm always glad to see a diverse group of people in terms of location, backgrounds and job titles — with a variety of reasons for coming to training.
Take the business owner I'll call Pat. She was tired of being taken advantage of by people claiming to know SEO, so she signed up for our three-day Standard training. On the third morning, Pat came in early and found me by the buffet table, steeping a cup of tea.
"I'm blown away by all that goes into SEO," she said, and asked if she could stay two more days to take the Advanced class, a Thursday and Friday morning extension.
Pat subsequently sent four of her staff to attend the SEOToolSet course. Training helped her understand the value of SEO for her business, and she embraced the knowledge.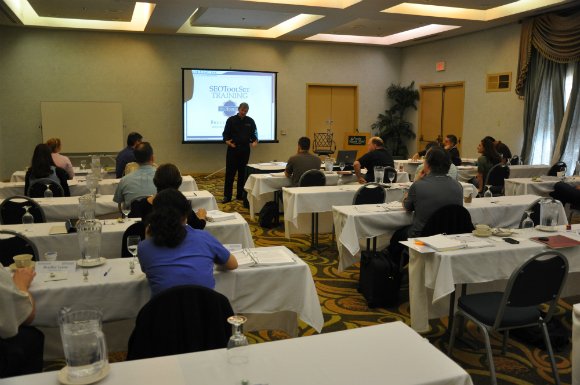 Day 2 – SEO training and learning go deeper
On the second day of Standard, the foundation has been laid. Everyone now grasps the basic concepts of search engine optimization. Training from the ground up is crucial because, even if someone has experience in SEO, it could be self-taught knowledge, a different interpretation or just wrong.
AuthorityLabs created a new report called "Now Provided".  The report is simple, useful, and excellent for taking back your page level keyword data for SEO campaigns.
3 Awesome Now Provided Report Features
Identifies keyword opportunities (with data to support them)
Provides long tail keyword information at the page level
Sortable by bounce rate to identify weak landing pages (great for panda problems)
The good folks over at Authoritylabs have come up with a solution to one of the many headaches that plague the world of SEO.  Not Provided was without question one of the biggest curveballs in the life of an SEO.  Many marketing "professionals" have been touting "ignore keywords" as a solution to this problem.  To this point, it was really about the only solution, as most of the workarounds, if any, were pretty terrible at best.
Brian has written about how to unlock keyword opportunities, and Tori demonstrates how to authorize analytics to pull in the data.
Tracking keywords has always been a source of contention, as well as a staple of any good SEO software.  SE's have always frowned on automated rank tracking, so it makes it a tricky tool to maintain.  Keyword level information has always been valuable, and it seems it's becoming harder to come by these days.
The folks at AuthorityLabs have been tackling this problem head-on, and this new feature has definitely helped add them to my essential toolset for client reporting.  Identifying opportunities in the page 2-5 area is the staple of most good SEO campaigns.  I've said for years you really have to "choose your battles" wisely with regards the keywords that you target.
The team at AuthorityLabs has been building and improving their software, and this feature saves time and trouble in nearly any SEO campaign.   It's mainly a combination of google analytics, SEMRush Data, and their own application interface at the page level to provide a useful report that helps to improve and consolidate your page's content.
The report is incredibly useful and automated once it is setup.  Find and identify keywords sitting in the "sweet spots" where you can bump them up with on-page optimization and better user engagement.  You only need Google Analytics and AuthorityLabs to take back your keywords with this wonderful report.
With the example below, you can see that one of our blog posts ranks for blackfin tuna.  It's a fishing tips article that could easily be improved to include more consolidated information about this species as well as more than tips.  We might want to add a call to action for a specialized tuna trip, or beef up the content with photos and video to achieve a longer time on site from users.
You can see that these phrases could be beneficial to our business goals (booking more fishing trips) with some effort on the page ranking for these terms.  This is a high value term to our business, despite it being "long tail" and low in search volume.  We can also see the similar phrases to get some ideas for content expansion.
Take back your page level keyword data with the "Now Provided" report at AuthorityLabs.  You'll get some wonderful (and incredibly reliable and accurate) rank tracking information along with it.
The post 3 Simple Reasons AuthorityLabs "Now Provided" Report is Awesome appeared first on .
I've often heard doing a site audit is like telling someone their baby is ugly.  This is obviously news that can be sensitive to deliver to a site owner.  You need to have all your information in order, as well as suggestions for how to deliver the news effectively.
Most SEO folks I know would probably be better served calling themselves a "website mechanic" – offering diagnostic information and recommendations is a critical part of staying relevant to organic search.  Understanding the best tools at your disposal and being able to create actionable high value tasks from that information is the important human layer that even the best marketing automation software will always struggle to replicate.  Sometimes half the battle is knowing the right questions to ask.
Last month I offered a webinar through Market Motive called SEO Workshop: Site Audits Part 1, The Ultimate Optimization Checklist. I have taken 50 of the 100+ audit questions and tools I discussed in the webinar and created the list for you below.  The remainder of those questions will be made available to MM students, and attendees of this month's free webinar.
Feel the Pain! Site Audits Part 2 with Annie Cushing
Date: Tue, July 23
Time: 2pm EST / 11am PST
Join us to hear Annie give you a multitude of suggestions on how to make your website better.  This one is not to be missed (heck, I even did a blog post to tell you about it!
 There are a few special documents (the extra questions below, as well as an amazing structured site audit template document from Annie) that will only be released to MarketMotive Members and folks who attend.
Keywords
What are the Key Performance Indicator's (KPI's)
What are the keywords being targeted?
Semrush.com / Raven Research Central / GWT: Optimization > Content Keywords
Keyword rankings?
Authority Labs / Moz – Rank Tracker / SEMRush / SEO Book free rank tracker
Site Index
How many pages are indexed?
Google site: command combinations
Domain information
What type of platform?
BuiltWith.com
Domain authority/ offsite equity?
Moz – Open Site  / Raven Research Central Quality tool / Majestic
What is home page quality? Vs. competitors' home page quality?
Raven Research Central Quality tool
How difficult will it be to obtain rankings for desired keywords?
Moz – Keyword Difficulty
www vs. non-www setting?
Can Change in GWT: Configuration > Settings
Are there other sites, domains, subdomains?
DomainTools.com
Keywords
What are the main short tail terms being targeted?  What are some longer tail phrases being targeted?
SEMRush, Soovle, Ubersuggest, Wordstream
How competitive are these phrases?
Moz – Keyword Difficulty
Which competitors are competing for these phrases?
Raven – Site Auditor / Majestic SEO Site Comarator / Open Site Explorer
How specific are they to these targeted keywords?
Internet Marketing Ninjas Optimization Tool
Content
Are keywords in content?
Internet Marketing Ninjas Optimization Tool / Moz – On Page Grader
Top pages with authority?
Moz – Open Site Explorer
Meta-tags vs. content – do they work together?
Internet Marketing Ninjas Optimization Tool
Page to page content keywords and meta comparison.
Internet Marketing Ninjas  Side-by-Side SEO Comparison Tool
Is any of the content plagiarized?
Plagiarism Checker / Copyscape.com
Which keyword phrases are informational and could be used for content development?
Topsy.com / Soovle.com
Duplicate Content
Off-site - Copyscape.com
Google "quotes" search or site: search
Is there duplicate versions of the homepage?
Is there easily identifiable duplicate content?
Raven Site Auditor 
Could Rel=prev/next be used? Should rel=canonical be used?
Is there content blocked with robots.txt 
Raven Site Auditor
Meta Elements 
Are the page specific meta tags in place?
Or are their identical title-tags and meta descriptions?
GWT / Raven Site Auditor
Are they properly descriptive?
Are the main keyword phrases included?
Is the length too long or short? 70 characters for Title-Tag and 160 for description?
GWT
Proper grammar and spelling?
Grammar.ly
Is Schema Data being used?
Schema-Creator.org
Social Signals
Image Optimization
Site Architecture
Is the site structure easy to follow and use?
Bing's Webmaster Tools Index Explorer
Are they using hyphens as word separators?
Are there Rel Prev/Next link elements set up for paginated pages?
Does the site have an XML sitemap? Does the site have an HTML sitemap?
What does the Robots.txt file tell you? Noindex/nofollow? www.example.com/robots.txt
What level are pages viewed by a search spider?
ScreamingFrog
Penalties
Are there any penalties or historical drops in traffic?
Panguin Tool
Site Speed
Internal Linking
Offsite
Offsite – Competition
Who are the top 5 competitors?
Raven Competitor Manager
What type of anchor text are they using?
Moz – Open Site Explorer / ReverseInternet.com
Do they have microsites?
ReverseInternet.com
Offsite – Backlink Profile Health
How many links are nofollowed?
Moz – Open Site Explorer
How many links are 301 redirects?
Moz – Open Site Explorer
Are there too many sitewide links?
ahrefs.com
Special thanks to
Melissa Fach
for assisting and inspiring on these questions and the final document.
Remember to sign up for the free Webinar: Feel the Pain! Site Audits Part 2 with Annie Cushing on Tuesday, July 23,  2pm EST / 11am PST to get the extra questions and Annie's template.
The post 50+ SEO Audit Questions
and the Tools to Answer Them appeared first on .
To learn the art and science of SEO (search engine optimization) it is my belief that the best source is your own efforts at hypothesis, experimentation and refinement.
If you're starting from scratch and really have no idea what SEO is, then certainly one of the popular SEO books would be a appropriate as well as attending an industry conference like SES, SMX, Pubcon or a regional event.
Both Google and Bing have made great efforts at providing webmasters with resources that are worth checking out as well. Online SEO training like that offered by Market Motive (affiliate link) can help those without the time to attend "real world" events.
For brand marketers, I'd suggest checking out the ad:tech New York Marketing Masters SEM Track in November that I've been putting together with case studies and best practices SEO and Integrated PPC insights from VW, REI, Salesforce and several others. (shameless plug)
Every other SEO resource has pretty much been covered in posts like this elsewhere on the web but when sourcing any kind of recommended list (including this one) care should be taken as to motive and real-world validity of the advice and information provided. There are plenty of smart pontificators that have taken "make shit up" to an art form, blending reasonable advice with pure theory and packaging it as SEO gospel. In fact, that same dose of healthy skepticism could be applied to anything you find and read on the web.
Literally everything you'd ever want to know about becoming a successful SEO is online, you just have to sort through what's theory, rant and outdated information.  That's why, if you create a strong base of knowledge through your own testing and direct observation, you'll be in a better position to filter quality signal from the noise.
Not to overwhelm, but here's a list of over 100 SEM information sources and another list of over 400 SEM & Online Marketing Blogs that you may find useful in your journey to learn more about SEO.
Whether you've been in the search engine optimization game for 1 or 10 years, what have you found to be the best sources of information to learn, maintain and advance your SEO knowledge?  What would you recommend to a SEO newbie?  Or to an in-house interactive marketer with SEO responsibilities but limited time to test and learn on their own?
---

Gain a competitive advantage by subscribing to the
TopRank® Online Marketing Newsletter.
© Online Marketing Blog, 2011. |
SEO Training & Learning Resources | http://www.toprankblog.com
Have you bought your ticket to SES San Francisco yet? The largest search marketing conference of the year is a work-hard, play-hard event for networking and education. While my inner party girl could argue that bumping elbows and making connections at after-hours events makes your attendance a must, that's just half the story.
There's truly nothing like soaking in a week of research and experience shared by our industry's brilliant minds in a face-to-face presentation and Q&A format.
If you're thinking of attending SES San Francisco in August but are waiting to see how the budget shakes out, this is your lucky day. There are so many ways you can save on an SES San Fran conference pass and Bruce Clay's SEO training that it almost warrants a flow chart. Instead, you'll just have to ingest this info overload the old fashioned way: by reading it.

1. 20 percent discount code: SESBRU20: No hoops, no strings. The cost of your conference pass is discounted by 20 percent when you use this code at checkout.
2. Bruce Clay, Inc.'s one-day SEO training workshop and SEOToolSet® Training: Bruce's one-day search engine optimization workshop takes place Friday and costs $1,095. Now attendees can extend their SEO training time with Bruce because we'll deduct the cost of the workshop from the price of our week-long SEOToolSet® Training in California ─ usually $2,990. Plus, all who attend both the SEO training workshop at SES San Francisco and our week-long SEOToolSet® Training automatically get their subscription to the Bruce Clay, Inc. suite of SEO diagnostic tools upgraded from the standard version to the pro version.
3. SEMPO members get $200 off our week-long SEOToolSet® Training: As an added bonus to those who support our industry's professional organization, we're giving all SEMPO members a $200 discount on SEOToolSet® Training. Considering that annual dues to SEMPO are less than $200, you're essentially making money when you sign up for SEMPO and SEOToolSet® Training together.
Discounts on your SES San Francisco conference pass, savings on extended SEO training opportunities with Bruce and upgrades to the SEO tools suite you can't live without? As if you needed more reasons to attend August's SES conference in San Francisco. Register for the conference and SEO training workshop today! And if you can't attend SES, you can still get the premier SEO training experience with Bruce at our week-long SEO course held all year long!
3 Ways to Save Big at SES San Francisco! was originally published on BruceClay.com, home of expert search engine optimization tips.
Guides about internet marketing tactics like Search Engine Optimization can be very useful tools; not only for practitioners to gain insight into what's working and what's not, but also for the agency/client side people working on the business side of things to understand where a particular tactic fits within an overall online marketing program.
While there are many, many credible SEO bloggers, conference speakers and pundits talking about the virtues of the latest SEO this and that, many business leaders are keen on recommendations that come with the credibility of an established marketing publication. The updated Guide on SEO edited by Jake Hird from Econsultancy, "SEO Best Practice Guide - Comprehensive advice for natural search marketers" is a great example of such a resource.
Originally created by Dr. Dave Chaffey, this most recent version has famous SEO expert contributors ranging from Lisa Myers of Verve Search to Dave Naylor of Bronco to Will Critchlow of Distilled to Nichola Stott of theMediaFlow who I did a SEO Dojo podcast with recently on SEO and Public Relations (podcast posts on Monday).
As a living document that gets peer reviewed and edited each year, this SEO guide is "soup to nuts" as they say, covering basics like keyword research, on-page optimization and link building to more advanced SEO topics like conversion optimization and optimizing for mobile. The guide is organized by Success Factors for SEO, including: Planning & Keywords, Indexing, On-Page Factors, Link Building, Process & Conversions.
There are also a number of Appendix items covering: SEO Copywriting, SEO Performance Audit, SEO Ranking Factors, Checklist for Links, a substantial section on Mobile SEO, RFP Template (I'm not a fan of SEO RFPs) and the inevitable SEO Glossary.
Overall, this guide is a great primer for those wanting to learn more about practical Search Engine Optimization as an independent marketing channel. It would be a good resource for marketing, advertising, public relations, copywriters, webmasters, interactive marketers and web designers that want to get a good baseline of SEO knowledge.
With advice on planning, process and sourcing SEO resources, this guide is also useful for companies from both a practical and logistical perspective, that want to include SEO more formally in their marketing mix.
Personally, I'd like to see a little more about strategy and how SEO intersects with other channels, but that would be at least double the size of the current SEO Best Practice Guide which currently weighs in at 323 pages.  I've reviewed this guide before and I continue to believe it's a very useful resource that's practical and actionable for agencies and in-house marketers alike.
The guide is available to Econsultancy members (Silver membership $395/yr and above), or purchase the report individually for $350. Obviously, it's a no brainer to get the Silver membership since you get access to a range of similar reports and guides for a little more than the cost of an individual report.
---

Gain a competitive advantage by subscribing to the
TopRank® Online Marketing Newsletter.
© Online Marketing Blog, 2011. |
Econsultancy SEO Best Practice Guide for 2011 | http://www.toprankblog.com
Many small businesses and even large corporations have not yet harnessed the power of Internet marketing to its full capacity. And even if you have sort-of focused on online marketing as part of your traditional marketing plan, how do you tackle the beast to stay ahead of the curve and your competition? These are all issues I will tackle in this two-part post on how to boost your in-house Internet marketing in 2011.
1. Actually Focus on Internet Marketing
That might sound shocking to some of us who are in the industry. But, it's a fact that some companies don't yet have it as a main focus in their marketing plan.
Before you small businesses and corporations start feeling down, don't worry. Even if you started focusing on Internet marketing in 2011, you'd still be ahead of the curve.
In fact, many companies that started SEO in the past couple years have had to rethink entire strategies based on all the changes to search that have been occurring, like the move to social and local.
At industry conferences in the past year, BCI has seen a huge shift in more traditional businesses wanting to learn about SEO. We see this in the types of professionals attending the one-day SEO training we offer.
From small companies to large corporations, some businesses in some sectors are just now making it Internet marketing a priority.
Internet marketing consultants: If you're looking to boost your client base in 2011, keep in mind that there is an untapped market of people who need your skills, expertise and guidance to jump start their Internet marketing efforts. Go find them.
2. Get Buy-In
If you're in a company that doesn't yet have a solid Internet marketing strategy, but you know it's the future of marketing, go to the people in charge and start educating them.
If you already have a strategy in place, but you know it needs updating, start talking. You might literally be holding the online success of your company in your hands.
Of course, you'll need to do a lot of research to form a strong case. Put yourself in "lawyer mode" and start doing the legwork. Collect all the materials you can on how Internet marketing positively affects ROI and the bottom line. This is where you'll show value.
Find white papers, case studies (highlighting success for businesses in your industry, if you can find 'em), articles and blog posts. Study them and put together a strategy that addresses the key goals for 2011, before they even ask you for it.
Some won't receive buy-in right away. Many business leaders know about the Internet marketing buzz, but still have to be taught why it will be valuable to their business success and how it works.
Some might be fearful of shifting focus from what they know works (traditional marketing) to the unknown (online marketing). Many industries still rely heavily on face-to-face marketing, traditional print, e-mail campaigns and more.
This doesn't mean Internet marketing will replace this (at least not right away). What usually causes the fear is a perceived lack of resources, value, budget and the unknown.
Again, this is where it's important to teach them not only the value but what's involved, how it will work and the ROI.
Internet marketing consultants: It's your duty to educate these businesses that are starting out on the importance of Internet marketing. Create valuable content that these in-house people can use to fuel buy-in. Perform more outreach to your potential target market, not just the people in the industry. I think we're all a little guilty of sometimes spending too much time talking about Internet marketing to Internet marketers (or is it just me?). How can we increase the value in our communications to help those starting out in Internet marketing? This is one of my goals for 2011.
3. Start Training
If you're just starting out, you could literally spend thousands of hours learning tactical execution from books, blogs and more.
And while I don't doubt the value of an education via these disjointed sources, if you're really new to it, invest in some training.
Even if you're, say, the Internet marketing manager with years of experience, continuing education is key within this fast-moving industry.
There are several ways you can get an education on Internet marketing and stay abreast of changes:
a) Training Courses. Many of the experts out there (and even the not-so-well-known experts), have online or classroom training courses on how to get started with SEO, social media, analytics, conversions, paid search and more.
b) Industry Conferences. Conferences are not only a great way to dive in head first, but also a valuable way for experts to brush up on their knowledge directly from industry leaders. Attending a conference can be like finishing a mini master's degree in Internet marketing, and is a great place to network. The big conferences for 2011 will be:
c) Online Self-Education. E-books, industry blogs, news sources, leaders in their fields. These are all valuable resources to learn from and stay on top of trends and changes. But it's a big job. Not only because there are so many opinions out there, but because it's so fast-paced. In fact, my job as a blogger is to stay on top of these resources and it's hard for me sometimes. Best piece of advice is to dedicate a little bit of time every week to catch up from these resources to see what you might be missing. Some blogs to watch out for include:
This is not a complete list by any means. This is literally just a high-level sampling. Countless Internet marketers contribute value to the community through blogs, videos and social media every day. If you have others you feel should be added to the list, please comment with your feedback.
d) Hire consultants. Sometimes the best way to get a tailor-made education in-house is to have the experts come to you. If you can fit consulting services into your budget, then this can be a very valuable experience for your organization. Many of the leading experts in Internet marketing are available for consulting.
Internet marketing consultants: Is there a better way you can culminate your knowledge into a one-stop place for someone to learn the basics of what you do? Having a great blog or offering training can not only help the business community, but also generate revenue for your business and position yourself as a thought leader. Or, maybe this is the year you should speak at a conference to share your knowledge with people gearing up for Internet marketing. Also, what are some other ways you can better assist in-house Internet marketers through your social media efforts?
In tomorrow's post, I'll give you another three areas in-house Internet marketers simply cannot ignore in 2011. Stay tuned!
3 Ways to Boost Your In-House Internet Marketing in 2011: Part 1 was originally published on BruceClay.com, home of expert search engine optimization tips.
Class was just dismissed at SMX East for Bruce's popular one-day SEO training for conference attendees. @Thao_Ngo was there and sent the very nice tweet below (Thanks, Thao!). If you missed it this time around, don't despair; we've got a lineup of SEO one-dayers coming up that'll perfect your ol' one-two punch (and some special discounts, too!).
SES Chicago kicks off October 18 with Bruce's one-day SEO course from 8:30 a.m. to 5:30 pm. Then on November 2, ad:tech New York begins with a special pre-conference training day, where Bruce holds his SEO class from 9:30 a.m. o 5:00 p.m. For ad:tech, we have a special 20 percent discount on the one-day training for attendees when they call 415.537.8537 with code "Bruce Clay."
Why One-Day Training?
There's been a lot of developments in the search industry lately and it's time to brush up on the latest tricks of the trade; what better way to do that than a SEO boot camp of sorts? You'll learn not only tried and true methods but info that can help you adjust your strategy to the changing search engines.
The man himself, Bruce Clay teaches the one-day SEO classes, so you'll have an opportunity to soak up his wisdom and pick the brain of one of the founding father's of SEO, and ask the questions you've been dying to know the answers to.
Our one-day training is packed full of tidbits good for beginners and those who need a refresher:
Importance of SEO. Find out how SEO relates to visibility, awareness, qualified traffic and conversions. Learn about ranking in relation to click-throughs, the major items impacting your rankings, structuring your site so it's SEO friendly, the future of search and more. New information touches on behavior and intent-based results, localized results and more.
Understanding the various search engines. Learn about how how the search engines work in relation to SEO, the Google algorithm, PageRank and how to prep your site to be spidered by the bots.
Universal Search. Understand how Google's Universal Search impacts rankings and how your content can be a part of it.
Social media and analytics. Find out why these are tools you can't afford to ignore.
Peek into your SEOToolSet®. Learn about the powerful new SEO tools we offer, which you'll receive a subscription to when you attend.
More Savings!
Anyone who attends the one-day SEO conference training from Bruce Clay, Inc. can participate in our Student Loyalty program, where returning students and their friends get great discounts:
Returning students: 25 percent off registration for regular and advanced SEOToolSet Training
Friends/colleagues of returning students: $300 off registration when signing up with a returning student
SEO Training Fun: Conferences Ahoy! was originally published on BruceClay.com, home of expert search engine optimization tips.
Day 1 of SMX East in New York has come to a close, but there's still a full week of jam-packed goodies ahead. Most conference attendees are probably now well into their second drink; and since we're not liveblogging from the conference like we usually do, we're (sadly) also not partaking in the post-conference libations. But on a happier note: you can check out Outspoken Media's coverage of the conference this week and of course, up-to-the-minute conversation on Twitter by following @smx or hashtag #smx.
Today, our man with the plan, Bruce Clay, led a theatre presentation a little after noon that highlighted the latest generation of our powerful SEOToolSet®: Version 5. The new SEO tools offer multilanguage support, faster reporting, a fresh user interface, compatibility with multiple modern browsers and more.
Anyone attending Bruce's one-day training this Thursday at the conference will receive a complementary subscription of said tools. The class is almost sold out, but you still have time to get yourself a seat for our one-day SEO training from 8:30 a.m. to 5:30 p.m.
If you do sign up, don't forget taking the one-day course qualifies you for 25 percent savings on the regular three-day or advanced SEOToolSet Training for the remainder of 2010 via our Student Loyalty program … since you'll be a loyal student and all.
Day 3's agenda of the conference features a quick appearance by Bruce for the Solution Spotlight at 9:00 a.m. on Wednesday, and then from 2 p.m. to 3 p.m., he'll be in an Ask the SEOs panel session with other experts in the industry. So if you have a burning question you'd like answered, head over there to learn from people like Bruce, @VanessaFox of Search Engine Land and @GregBoser of 3 Dog Media BlueGlass Interactive (announced just today), among others.
And if anyone has any fun pictures they've snapped of the conference action, send them over to us via @BruceClayInc or Bruce Clay on Facebook and we'll post them up!
Where's Bruce? SMX East 2010 Goodies was originally published on BruceClay.com, home of expert search engine optimization tips.
As I sit down to write this post, I realize I have some big shoes to fill. Not that anyone could ever replace our beloved @VirginiaNussey, but the wit, wisdom and creativity she brought every week to this blog is a tough act to follow.
It's especially tough when the topic at hand is SEM Synergy, Virginia's one-woman show, of which today was her last episode. Today on SEM Synergy, Virginia interviewed Mark Robertson (@ReelSEO), founder of ReelSEO, a resource for online video marketing and video search optimization.
We also talked upcoming conferences, training and discounts, and said some final goodbyes to the hostess with the mostess, Virginia. In the Webmaster Radio chat room, we laughed, we cried, we saw an image looking out the window of Virginia's new home in Brooklyn, NY … all in all, a perfect farewell show.
It got me thinking: In the world of broadcast radio, shows have an entire team behind them, from producers to programming directors to on-air staff and more. But Virginia is a go-getter, and she wasn't gonna let something small like lack of support staff get in her way – No! She likes hats and she wore all of them. It was a labor of love, and she did incredibly well at building something great from the ground up. Well done, V!
(P.S. Virginia, now that you're in NYC, you can wear real hats. The kind that keep you warm, not stress you out.)
Video Internet Marketing and Optimization
Now, let's talk making videos successful for business. On today's chat with Mark of ReelSEO on SEM Synergy, we learned more about the concept of "YouTube cannibalization" and the concern that surrounds what some feel is a conflict of interest by uploading a video to a website while at the same time uploading to YouTube.
The concern is that the content put on YouTube will always outrank the video on another website. But Mark says that YouTube should not be discredited as a place that offers great opportunity for conversions. He affirms that YouTube is a good place to generate awareness about a company, but not always suited for e-commerce.
Mark believes that although YouTube has a lot of PageRank and authority, it doesn't always mean the video in that community will outrank the same video on a business' website. In fact, he's seen multiple instances where a search engine favors a website over YouTube for a video based on the relevance and topical nature of the website. He goes on to say that optimizing both the video for YouTube and the website can offer twice the opportunity to rank for a search term.
Switching gears a little bit, Virginia brought up the question that's on everyone's minds: How can a business identify ideas for a successful video? If you don't have a team of advertising experts behind you like the people from Wieden+Kennedy who drove the wildly popular Old Spice series of videos, how can an average business find some success in video marketing?
First, understand what works well online, says Mark. Instructional videos, videos with humor – these are some of the concepts that do well. Mark warns never to have the goal be making a video go viral. Instead, think of what will engage your audience and/or teach them something. To brainstorm, a business might want to ask its audience what they might like to see, ask them what it is about the business that attracts them, then go from there.
Anticipated Conferences and Discounts for the Remainder of 2010
We also chatted on the show today about some of the upcoming conferences to look forward to for the remainder of the year, and some of the discounts Bruce Clay, Inc. is offering for registration and our SEOToolSet® Training.
In the chat room, it was brought to our attention that we didn't talk about the upcoming vacation conference in the Hawaiian Islands hosted by Wappow! (Twitter hashtag: #SSwoot): the Search and Social Woot! event, kicking off Monday, Sept. 27.
If you're like Susan, who desperately tried to justify going to this conference for the sun and fun invaluable information she would have been able to learn and share, but had to stay behind due to real work [Paying clients, man, it's like you owe them time or something. –Susan], you can view a live stream of the event for mere shekels.
You won't need sunscreen, flip flops or anything else to prep for the live stream. Although watching people have fun at the conference in Hawaii from your cube or home office might just drive you to drinking, so feel free to stock up on tiny umbrellas so you can participate on some level.
Our conference and training registration discounts can be found below. For more information, you can visit our SEO training and conference discounts page.
SMX East 2010
Save 20 percent on SMX East registration with code smx10bruceclay.
PubCon Las Vegas 2010
Save 10 percent on PubCon registration with code rc-2736015.
SEOToolSet Training – Student Loyalty Program
Save 25 percent on SEO training for returning students who attended any SEOToolSet Training prior to July 2010. This includes those who attended the one-day training at any conference. Additionally, those who sign up with the returning student receive $300 off each.
Combine our SEOToolSet Training discount for one-day training at SMX East with our registration discount and you can save a total of 45 percent on your conference-related expenses!
A Teary Farewell, Some Video Marketing Tips and Awesome Discounts – SEM Synergy Extras was originally published on BruceClay.com, home of expert search engine optimization tips.